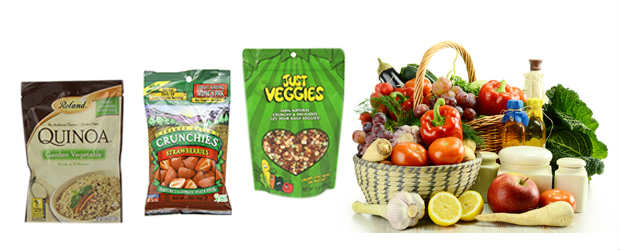 We, at Stand Up Pouches, a food product packaging company envision in complete commitment to quality, safe environment and enforce top priority to customer service. We bring you an interesting product line of food packaging bags exclusively designed in considering all the requisite factors. Needless to say, you can count on our credibility to bring you the best and safe food bags which you would have never experienced before.
What makes us DIFFERENT in Food Product Packaging…
We are unique and different from any of the existing products in the market. Authenticity lies in the making and delivering the best quality to you which can be explicated below for better understanding:
High Quality Materials: Ingrained with high quality materials are the result of fantastic food bags which keeps the food safe, moist-free and fresh all the time. However, food packages if carried dry, moist or frozen, everything thrives on skillful packaging process to keep it fresh all the time.
Super quality Custom Printing: If commercial branding and market promotions are your prime motto, then you can never be behind when you implement high quality custom printing whether on food packs, organic food bags or any other gusseted stand up pouches with us. We ensure complete guidance tool to frame the designs you want by our astute team of professionals.
Fast track shipment: When it comes to shipment, quantity doesn't matter; all it matters is the quality of packaging or food. However, shipment depends on the order of packaging you want. Pouches whether unprinted or gusseted can be ordered directly from our online store. If you are interested for custom printed stand up pouches, after the approval process can be shipped in a stipulated lead time. We are always committed to assist you in customization of your food packaging.
Incredible Packaging only with US!
Food Bags: Variety is the spice of life, so when we manufacture variety of heavy duty zip locks, several other sizes of food bags make it readily available can be shipped from our warehouse. Food bags are used for dry mixes, spices, granola, cereal, snacks, cookies, etc. It is food safe, free from moisture, oxygen-free and prevention from UV light.
Organic Food Products: Our packaging process thrive on excellent engineering of barrier film laminated pouches for organic food like coffee, salsa, fruit nuggets, meat, cheese and anything grown organically. They are available in heavy duty zipper, pourer spouts and degassing valves. These incredible features make it stand out in the market.
Stand Up Pouches: Spouted stand up pouches are exclusively designed for fruit juices, sauces, oil, vinegar, which is constituted meticulously from different types of film like Mylar, foil or metalized ones which when put together, it becomes durable and keeps the matter fresh and juicy. However, in all printed pouches, genuine functionality is retained.
Stand Up Pouches Company since 1980 has changed the face of consumer food product packaging for the products like juice, nuts, beverages, salad dressing, dairy cream, pet food for all kinds, medicinal or pharmaceuticals and much more. With rotogravure printing techniques, the deliverance of highest quality of food bags and pouches are guaranteed.