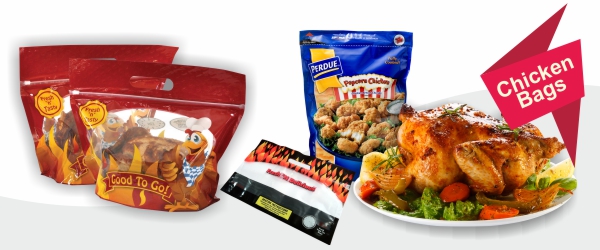 Most of the people around the world consume chicken as some of the tastiest dishes on daily basis. There is a wide variety of types of chicken that is available in the market but it is enjoyed best if it is full of taste and freshness so effective chicken packaging is important for preserving the essential qualities of chicken for longer time. We have been manufacturing and supplying a wide range of high quality chicken bags that are highly durable, flexible and cost effective solution for packaging various types of chicken including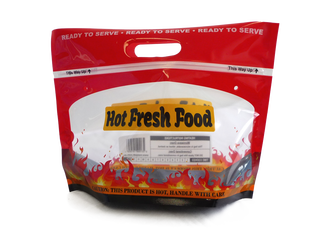 Pre-cooked Chicken
Meat Packaging
Raw Chicken
Beef and Jerky Packaging
Un-cooked Chicken
Sea Food Packaging and many more.
We offer high barrier plastic vacuum chicken bags, which expel the air from the package prior to sealing and they are helpful for maintaining the freshness, smell and taste of the chicken products by providing excellent moisture and oxygen barrier properties. Our vacuum chicken bags are freezable, and can withstand low temperature without cracking. Apart from this, our chicken bags are also available in several other styles such as three side sealed bags, retort pouches, stand up pouches and many others. These bags are leakage proof and consumer convenient as they are equipped with several accessories like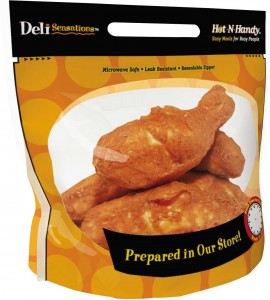 Re-sealable Zip Closure
Euro Slot
Tear Notch
Hanging Holes
Transparent Window
We produce our chicken packaging bags by utilizing several plastic films like BOPP, PET, BOPA/nylon and PE that provide excellent durability. We also provide custom printed chicken bags, which are manufactured by using advanced rotogravure technique and they are an effective promotion tool as they are imprinted with the company logo and nutritional information. So if you want to pack your chicken products with our reliable, durable, innovative and cost effective chicken bags, then contact us without any hesitation. We will try our best to fulfill your requirements.