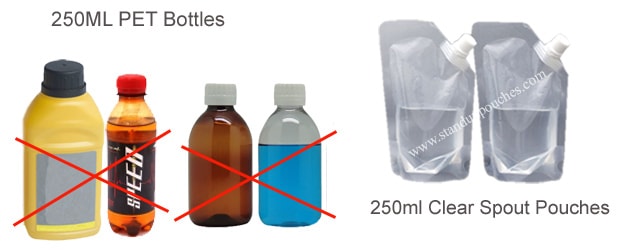 PET bottles and cans are the cost-effective and environmentally packaging materials that have been constantly utilized from earlier time until now. However, these bottles are more fragile than some other sort of flexible packaging such as spout pouches, which are more durable in nature. We provide an extensive range of excellent quality spout pouches in several sizes, colours, shapes and even materials according to your requirements.
What are the reasons that will surely make you to swap your plastic bottles with our spout pouches?
Our 250ML spout pouches are extremely durable and tear resistant in nature so there is no risk of any kind of breakage or leakage during the transportation process, where as the 250ML PET bottles may break so our pouches would be a more secure packaging option.

These spout pouches reduce transportation cost because they are light in weight and acquire less space in storage compared to the rigid 250ML PET bottles.

Compared to the glass or plastic bottles, the extra labeling cost would be reduced because our spout pouches are customizable entirely with quality coating: choice of design, colour, size, shape and resistance.

Our spout pouches are completely recyclable and eco-friendly packaging solution because the materials used in the production procedure of these pouches are biodegradable.

Due to the nozzle and a cap on the top of the spout pouches, they provide easy to pour and fill application and leakage proof feature so these pouches are consumer friendly than the traditional 250ML PET bottles.
So feel free to contact us for more information or inquiries about any alternative product to the 250 PET bottle; we will try our best to meet your packaging requirements at the most affordable prices.