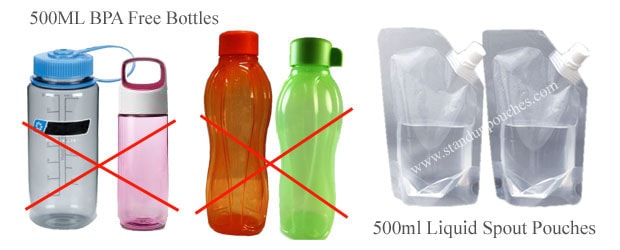 Plastic bottles, glass bottles, jars and cans were utilized to package and store several forms of products in earlier centuries. Utilization of 500ML BPA free bottles would be more sensible to package several liquid products such as juices, oils, beverages, sauces, purees, sauces, etc.
Into this quick forward 21'st century, there are several companies that still like to utilize these conventional methods to package and store their liquid and other forms of products. However, gradually the patterns are changing and numerous manufacturers have begun to utilize spout pouches to package their products. We offer durable and innovative stand up spout pouches, which are completely secure method for packaging several liquid and other products.
Why our spout pouches are more advantageous?
In comparison with bottles or cans, it takes lesser plastic to produce our spout pouches so they are an excellent way to rescue the environment and save on raw materials cost.

There are risks that the glass or plastic bottles will break throughout the storage or transportation process, however compared to this, our spout pouches do not break due to their excellent durability and tear resistant strength.

We offer stand up spout pouches with a straight and angular fixed spout, which is very unique option for packaging liquids and other products. These spouts can be closed and opened whenever required again and again so they provide enormous convenience and leakage proof feature.

Compared to the 500ML BPA free bottles, our spout pouches are light in weight and acquire less space in storage so they minimize the transportation cost as well.

Even in comparison with 500ML BPA fee bottles, the labeling cost is also reduced because we offer custom printed spout pouches, which are imprinted with your company logo and brand name along with nutritional and other important information about the products.

Apart from juice packaging, drinks packaging, beverages packaging, our 350ML spout pouches are also useful for spices packaging, sugar packaging, salt packaging, etc.
So due to above advantages, it would be more reasonable for you to replace your traditional 500ML BPA free bottles or cans with our durable and leakage proof spout pouches to package your products.