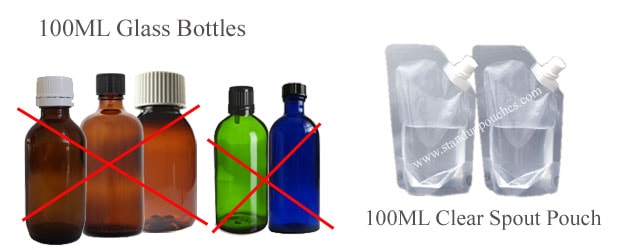 Plastic bottles, glass bottles, jugs and cans are utilized for packaging variety of products all around the globe. But these traditional containers have some drawback due to their fragility, weight, safety and convenience. So we offer extensive range of spout pouches, which are more secure and advantageous choice of packaging than the glass or plastic bottles.
Our 100ML spout pouches are manufactured with excellent quality materials so that they guarantee optimal preservation of the products. Like 100ML glass bottles, these stand up spout pouches have bottom gusset that allows stable standing capabilities and better exposure on supermarket shelves.

In comparison with the 100ML glass bottles, our spout pouches are light in weight and occupy less space in storage so they lessen the cost of transportation.

The materials utilized for manufacturing our 100ML spout pouches are totally recyclable so they are an eco-friendly packaging solution than the rigid glass or plastic bottles.

Labeling cost would be minimized because we offer custom printed spout pouches with choice of design, colour, size, shape and resistance.

Due to their excellent durability and tear resistant strength, our 100ML spout pouches do not break throughout the distribution process so they are safer option than the glass or plastic bottles.

Our spout pouches are consumer friendly due to the nozzle and a cap on the top of the pouches, which provide easy to pour and fill application and leakage proof feature than the 100ML glass bottles.

Apart from juice packaging, drinks packaging, beverages packaging, these spout pouches are also useful for spices packaging, sugar packaging, salt packaging, etc.
So from above advantages, if you have decided to swap your 100ML glass bottles with our durable and convenient 100ML spout pouches, then don't hesitate to contact us for more information and inquiries; we will try our best to meet your packaging requirements at the most affordable prices.