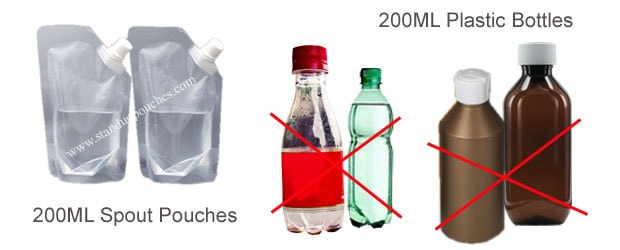 Plastic bottles, plastic jars, glass bottles or cans were used to store and package various types of liquid and other food and non-food products in the mid twentieth century. However, progressively the patterns are changing and various companies have started to utilize durable and convenient spout pouches for packaging variety of products. Let's see how our durable and convenient 200ML spout pouches are more beneficial than the traditional glass or plastic bottles.
Compared to the 200ML plastic bottles, our spout pouches are eco-friendly in nature because these pouches are manufactured by utilizing biodegradable materials.

These spout pouches are less expensive alternative than the glass or plastic bottles because transportation expense is minimized with these pouches because they are light in weight and occupy less storage space. Even in comparison with 200ML plastic bottles, the labeling cost is also decreased as we offer custom printed pouches, which are manufactured by utilizing the advanced rotogravure technique. Additionally, the expense of sealing wads is also reduced.

If you choose our excellent quality spout pouches, then any kind of breakage during storage and transportation is decreased because compared with the glass or plastic bottles, these pouches are highly durable and tear resistant in nature.

Our spout pouches are consumer friendly due to the nozzle and a cap on the top of the pouches, which provide easy to pour and fill application and leakage proof feature than the 200ML plastic bottles.

Apart from juice packaging, drinks packaging, beverages packaging, our 200ML spout pouches are also useful for spices packaging, sugar packaging, salt packaging, etc.
So due to above advantages, it would be more sensible for you to swap your 200ML plastic bottles with our durable, flexible, affordable and leakage proof spout pouches.