"Style your Liquid Packaging with our attractive Shrink Sleeve Labels"
Days passed off, when Liquid was packed in cumbersome bottles and containers that occupies more space, causes more damage and were difficult to dispose after its use. This rigid container is replaced by flexible and stylish Spout Pouches. Swiss Pac's Liquid Packaging bags are reusable, ecologically safe, consists litheness and have excellent plasticity and stoutness along with its eye-luring looks. Swiss Pac is also recognized for providing different styles of printed Shrink Sleeves for promotion of your different types of product.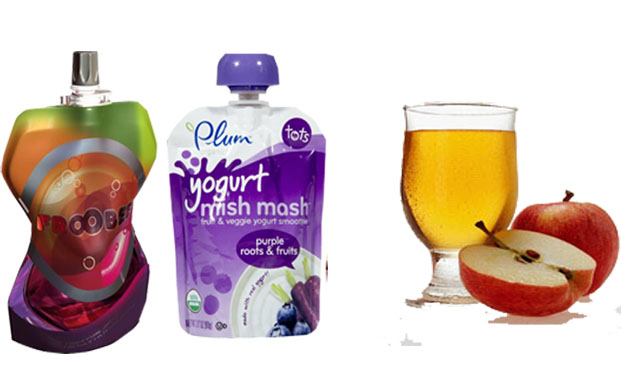 Liquid Packaging
Swiss Pac is globally renowned for manufacturing durable Spout Pouches for liquid packaging that not only provides safe, secure and leakage proof packaging for liquid products but can also be used as a most effective promotional tool, for the brand recognition and increasing products sales. Laminated films of various materials such as PVC, PET, PP, PE and BOPP are used in manufacturing of Liquid Packaging Bag that helps in increasing the strength and durability of the Spout Pouches. Our Spout Pouches are available in different colors and in different sizes ranging from 100 ml to 3.5l. Our Liquid Packaging bags can easily be recycled and disposed as well as also helps in extending the shelf-life of the product.
To establish your product in the market its appropriate and conventional promotion is must. This effective promotion can be established with Swiss Pac's stylish and durable Shrink Sleeve Labels. Our Shrink Sleeve label is not only recognized for its unique and innovative designs and logos but also for its high density and durability. Our Shrink Sleeves are flexible to any shape of product container, providing 360 degree promotion covering the whole surface of the container. Our Shrink Sleeves is printed using latest rotogravure and flexographic printing technology that allows high printing labels in up to 9 different colors.  We also provide reverse side printing. This Shrink Sleeves can be applied on any type of metal, plastic and glass containers.
Order our stylish, flexible and printed Liquid packaging bags for your most precious beverages and do its effective promotion through our most innovative and unique Shrink Sleeves.  Hurry!! Pack with us, as we understand your needs and takes care of your precious packaging products.